BUT IF YOU PREFER TO HAVE YOUR DIAMOND PRE-SET IN A RING...

1. Designer rings: Steven Kretchmer Design
---
In keep with our tradition of highest class quality we set out on an exploratory voyage to choose a unique, attractive and, literally, state of the art ring design that would also be an artistic statement in its own merit, for our showroom and discriminating diamond clients. The voyage was short, of sure and unavoidable course and conclusion. An encounter with the world renowned, award winning and revolutionary jewelry designer par-excellence Steven Kretchmer of NY.
We visited Steven at his spacious living and work quarters, a copious combination of workshop (--where all jewelry pieces are hand crafted--) and residence in a converted old school building. There we were presented with a fascinating and enlightening tale of quest, research, invention and innovative creativity. Kretchmer's preoccupation with limitations on creativity imposed by old maxims and techniques of precious metals metallurgy had led him to fascination with in-depth metallurgical research, studies under leading Japanese and Italian metalsmiths and designers, and, finally, to remarkable, ground breaking inventions & designs of his own. Patented thermal and mechanical processes applied to his precious metal alloys, primarily gold and platinum alloys, yielded springiness never before possible in those metals. The process is analogous, in a sense, to the conversion of iron into steel. The newly created springiness allowed Kretchmer to introduce a new fashion of diamond setting and, as an immediate result, a whole new family of creative designs hitherto inconceivable and impossible. The diamond mounting allowed by those treated, special alloys is the (by now-) famous tension setting, exerting, in Kretchmer's designs the equivalent of 12,000lb. per square inch of metallic, springy pressure. Few gems (only those scoring 9 (out of 10) or higher in the hardness scale such as Ruby and Sapphire) can sustain this enormous pressure, first among which is Diamond, the gem of highest hardness (10 out of 10). The exerted pressure guarantees, further, safe setting for longer than a lifetime. Award winning designs such as Kretchmer's renowned "Omega Ring", through their revolutionary tension setting, allow more of the diamond to show, more brilliance to explode, more color dispersion to spark, and a magic-like look of a diamond that almost seems to be suspended in mid-air. Despite the appearances of "floating in mid air", the mounting is stronger than most conventional prong and bezel settings which tend to loosen with time and use (it enjoys, furthermore, the added benefit of eliminating the unnerving entanglement of prongs in fabrics...). This due to the treated metal springiness and to the fact that more surface is touched by the setting but at points that are optically less critical in terms of exposure of beauty, brilliance and wholesomeness of the Round Brilliant shape: Kretchmer settings hold their diamond solely by its girdle. The aging and seasoning of the treated metal in Kretchmer's studio furnaces prevent the brittleness that precious metals develop over time and guarantee the treated metals longer endurance and longer retaining of their finish than their standard, untreated 'equivalents'. Statistically, practically and mechanically speaking a Kretchmer tension setting will never loose its diamond. Only through the use of specialized tool may a Diamond be de-mounted from those settings. Similarly, Kretchmer rings can be set and mounted only in Steven Kretchmer's studios.
---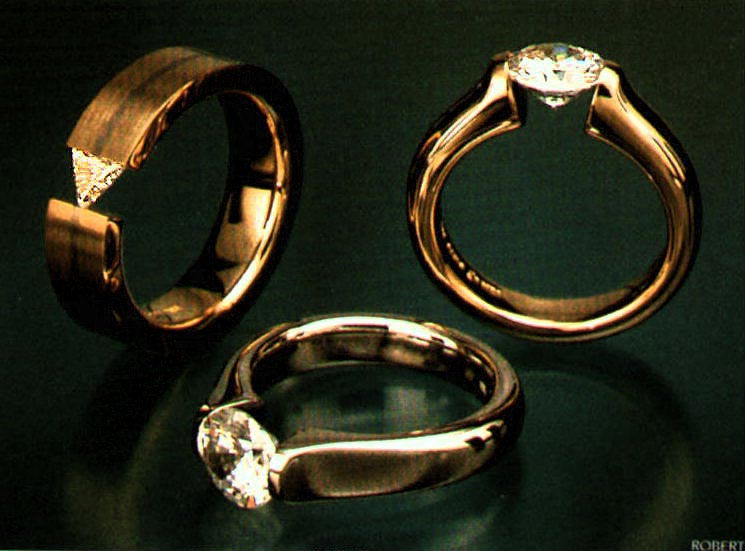 From left: Flat Kretchmar designed tension ring with a trilliant diamond, Omega ring with flat top, Omega ring--round top
Kretchmer's unique tension designs are sold only through selected few distributors of the highest repute. Their exclusive territories, which Kretchmer attempts to assure not to overlap, cover large segments of the US (--they are available upon request). Now, Van-Daaz has been granted the rights to display and sell those designs in its location.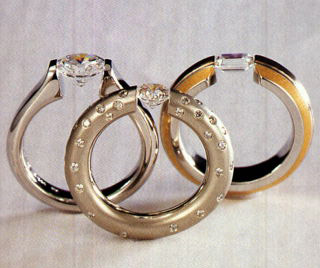 From left: Flat Top Omega , Round Tension Ring, and Emerald Cut Diamond in tension setting--all in platinum settings
As with other breakthroughs imitations were fast to follow but, as especially commissioned lab reports indicate, their hardness (and therefore safety of mounting) is not as good as Kretchmer's patented process. Beware of such imitations (incidentally, one European tension setting manufacturer and designer, namely, Niessing, using a different patented process, seems, however, to offer designs of, by and large, comparable reliability and of the same class in terms of quality of manufacturing).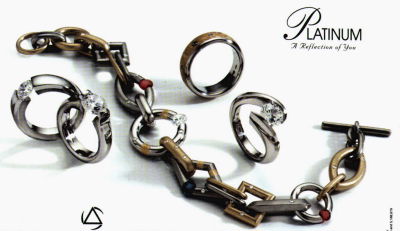 From left: USH tension setting , Flat Omega, and New Helix tension setting--all in platinum
The alloy for each Kretchmer ring is processed especially for it and all items are hand crafted by Kretchmer and a small team of craftspeople especially trained and supervised by him (once alloying, thermal and mechanical processing are over). Each ring has to be carefully designed to fit the size of diamond held by it. As a result, delivery time for Kretchmer rings may take up to five weeks. Special care has also to be taken in the process of sizing prior to ordering a Kretchmer tension setting since the processing of the precious metal and the very design do not allow any resizing in some tension setting models and only limited ones in others.
The striking, uncommon results more than justify the patient wait.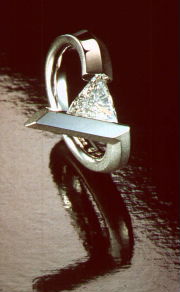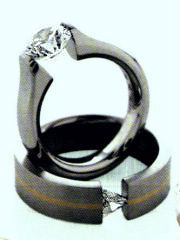 Left: V-Ring with a trilliant diamond

Right: A dynamic Kretchmer duo: An Omega and a Flat Setting with a Trilliant Diamond, in platinum.

Prices of Kretchmer designs are in line with their uniqueness, exclusivity and the invested, elaborate craftsmanship and one of a kind artistic expression. Yet, they are affordable. They are availailable in our Showroom wher you are very welcome.
Your comments are welcome, please write to us.
---
2. Titanium Rings: the Signature Line by Maria da Costa
[ Home | Diamonds | Ordering | Steven Kretchmer Biography | Designer Titanium Rings ]
Text, concept & page design are &copy Van-Daaz 1998 -2000